Menü Kartları ile Dijital Menülerin Karşılaştırmalı İncelenmesi (Comparative Examination of Menu Cards and Digital Menus)
Keywords:
Menu, Classic menu card, Digital menu, Comparison, Consumer
Abstract
The menu stands out as a marketing strategy. The purpose of this research is to examine whether there is any difference between a traditional menu card and a digital menu card in terms of consumer perceptions. As a result of the study, the participants agreed that the physical features of the classical and digital menus should be compatible with the business concept and the card or digital environment should be of high quality. It has been determined that there are many alternatives in the menu, and there is a significant difference according to the education level of the participants (p <0.05). It is seen that while some of the answers given by the participants to the questions about the classical menu and digital menus overlap with each other, some of the answers differ. When these differences are compared in demographic characteristics, it is observed that there are changes in the answers according to gender, educational status and age range.
References
Aktürk, E. & Tekman, N. (2016). Konut talebi ve erzurum kent merkezlerinde tüketicilerin konut edinme kararlarını etkileyen faktörler. Atatürk Üniversitesi İktisadi ve İdari Bilimler Dergisi, 30(2), 423-440.
Antun, J. M., & Gustafson, C. M. (2005). Menu analysis: design, merchandising, and pricing strategies used by successful restaurants and private clubs. Journal of Nutrition in Recipe ve Menu Development, 3(3/4), 81-102.
Baiomy, A. E., Jones, E. & Goode, M. M. (2019). The influence of menu design, menu item descriptions and menu variety on customer satisfaction. A case study of Egypt. Tourism and Hospitality Research, 19(2), 213-224.
Bekar, A., & Demirci, Z. (2015). Menü kartlarının müşterilerin yiyecek içecek tercihi üzerindeki etkisi. Seyahat ve Otel İşletmeciliği Dergisi, 12(3), 21-33.
Beldona, S., Buchanan, N. & Miller, B. L., (2014). Exploring the promise of e-tablet restaurant menus. International Journal of Contemporary Hospitality Management, 26 (3), 367–382.
Bowen, J. T. & Morris, A. j. (1995). Menu desing: can menus sell? Journal Contemporary Hospitality Management, 4-9.
Dayan, E., & Hillel, M. B. (2011). Nudge to obesity II: menu positions influence food orders. Judgment and Decision Making, 6(4), 333-342.
Dilsiz, T. (2020). Gastronomi Turizminde Türkiye Peynirleri: İstanbul Peynir Festivali. Yüksek Lisans Tezi.
Kastamonu.
Dodd, T. H., (1997). Techniques to increase impulse wine purchases in a restaurant setting. J. Restaur. Foodserv. Mark. 2 (1), 63–73
Gürsoy, D. (2018). Deniz gürsoy'un gastronomi tarihi. İstanbul: Oğlak Yayıncılık ve Reklamcılık Ltd. Şti.
Gynell, I., Kemps, E., Prichard, I., & Tiggemann, M. (2022). The effect of item placement on snack food choices from physical and online menus. Appetite, 169, 105792.
Ip, M. M. H. & Chark, R. (2023). The effect of menu design on consumer behavior: A meta-analysis. International Journal of Hospitality Management, 108, 103353.
Jeong, E., & Jang, S. S. (2016). Imagine yourself being healthy: The mental simulation effect of advertisements on healthy menu promotion. International Journal of Hospitality Management, 53, 81-93.
Jones, P. & Mifll, M., (2000). Menu development and analysis in UK restaurant chains. Tourism and Hospitality.
Research, 3 (1), 61–71.
Kwong, L. Y. L. (2005). The application of menu engineering and design in Asian restaurants. International Journal of Hospitality Management, 24(1), 91-106.
Lessel, P., Bohmer, M., Kroner, A. & Krüger, A., (2012). User requirements and design guidelines for digital restaurant menus. In Proceedings of the 7th Nordic Conference on Human–Computer Interaction: Making Sense Through Design, 524–533.
Martell, N. (2013). "Goodbye paper menus? Restaurant test the water for tablets," Npr the salt: What's on your plate. (12.03.2023 tarihinde ulaşıldı)
Mayton, J. (2015), "New san francisco restaurant replaces humans with ipads," The Guardian retrieved from https://www.theguardian.com/ us- ews/2015/sep/01/san-francisco-restaurant-eatsa-ipad-orders. (02.12.2022 tarihinde ulaşıldı)
Mills, J. E. & Thomas, L. (2008). Assessing customer expectations of information provided on restaurant menus: a confirmatory factor analysis approach. Journal of Hospitality ve Tourism Research, 62-88.
Noone, B. M. & Cachia, G., (2020). Menu engineering re-engineered: accounting for menu item substitutes in pricing and menu placement decisions. International Journal of Hospitality Management, 87, 102504
Özdemir, B., & Çalışkan, O. (2013). A review of literature on restaurant menus: specifying the managerial issues. International Journal of Gastronomy and Food Science, 1-11.
Panitz, B. (2000). Reading between the lines: the psychology of menu design. National Restaurant Association, 22- 27.
Pavesic, D. (2005). "The psychology of menu design: Reinvent your 'silent salesperson' to increase check averages and guest loyalty. Hospitality Faculty Publication. Paper 5
Sarıışık, M., Işkın, M. & Şengel, Ü. (2019). Yiyecek-içecek işletmelerinin menü analizi ve tüketicilerin menü beklentileri: Sakarya örneği. Journal of Tourism and Gastronomy Studies, 7(1), 85-100.
Sezgi, G., & Cömert, M. (2015). Tüketiciler açısından menü tasarımında önemli kriterlerin belirlenmesi. Gazi Üniversitesi Sosyal Bilimler Dergisi, 20-31.
Toast (2017). "Industry report: Restaurant technology in 2017," https://pos.toasttab.com/resources/restaurant- technology-industryreport. (02.11.2022 tarihinde ulaşıldı)
Wang, S., & Lynn, M. (2017). The effects of service charges versus service-included pricing on deal perception. Journal of Hospitality & Tourism Research, 41(2), 246-254.
Yağar, F. & Dökme, S. (2018). Niteliksel araştirmalarin planlanmasi: Araştirma sorulari, örneklem seçimi, geçerlik ve güvenirlik. Gazi Sağlık Bilimleri Dergisi, 3(3), 1-9.
Yılmaz, İ. (2022). Menü Planlama ve Özel Menüler Kitabı. Ankara: Akademisyen Kitabevi.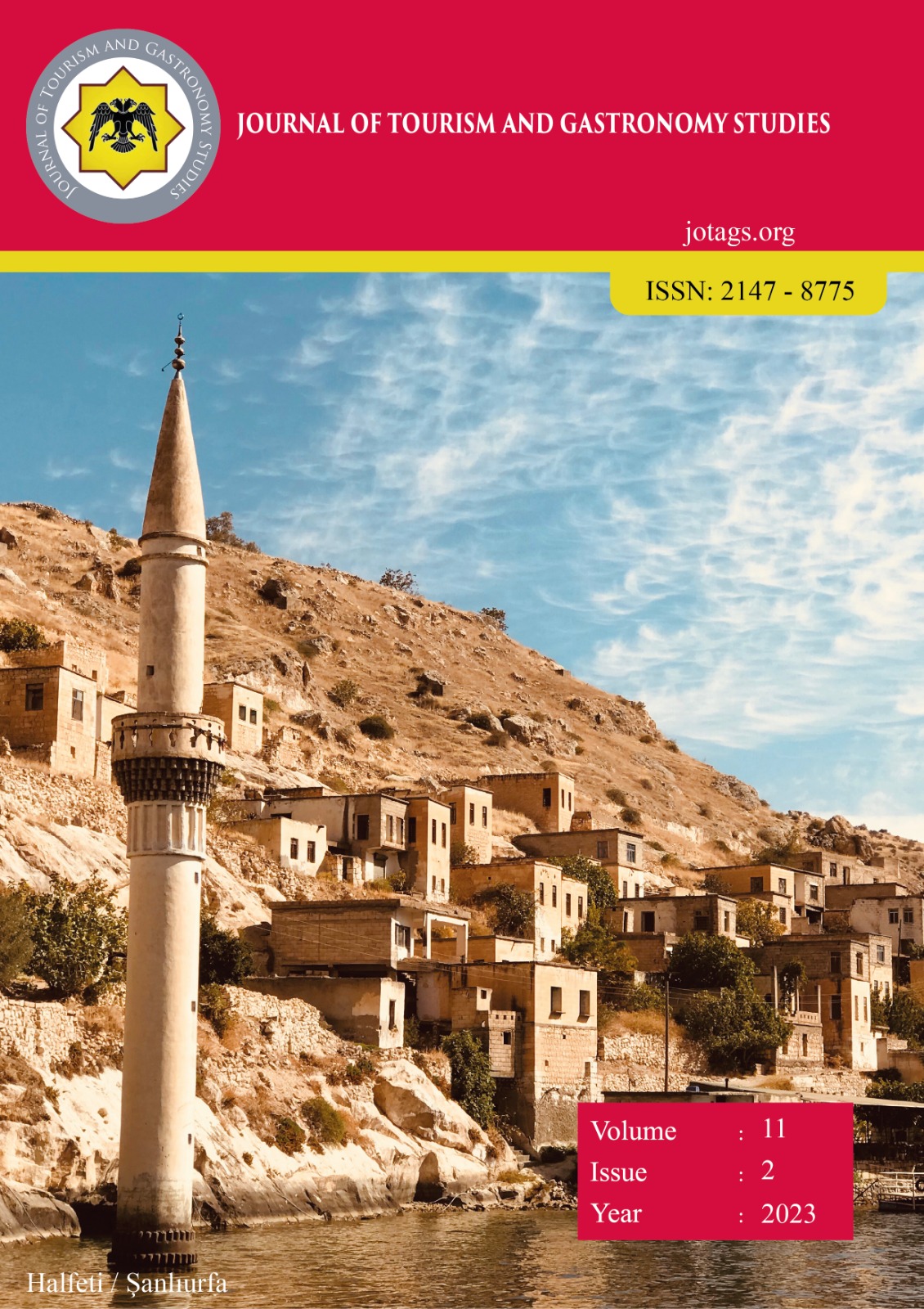 Downloads
How to Cite
ERDEM TÜRK , A. ., & YILMAZ , İlkay . (2023). Menü Kartları ile Dijital Menülerin Karşılaştırmalı İncelenmesi (Comparative Examination of Menu Cards and Digital Menus). Journal of Tourism & Gastronomy Studies, 11(2), 1433–1461. https://doi.org/10.21325/jotags.2023.1251
Section
Research Articles
License
Copyright (c) 2023 Journal of Tourism & Gastronomy Studies
This work is licensed under a Creative Commons Attribution-NonCommercial 4.0 International License.