Offal in Turkısh Cuisine: Example of Adana Province
Keywords:
Turkish cuisine, Offal, Local dishes, Gastronomy
Abstract
Offal, which has an important place in Turkish culinary culture, is defined as the edible parts of slaughtered animals, excluding meat. Since ancient times, when people began to hunt animals, offal has been a part of the dietary habits of Turks and other ethnic groups. In the light of this information, I aimed to bring together the findings about offal, to reveal the place and importance of Turkish cuisine from past to present, and to determine and evaluate the offal in the menus of food and beverage businesses in Adana. The target population of the study consists of food and beverage businesses located in the center of Adana. It was determined that the enterprises participating in the research operate in the center of Adana and include offal dishes in their menus. Accordingly, a total of 17 businesses that include offal in their menus were interviewed. Content analysis were used in the analysis of the data obtained for the study. When the results of the analysis are examined, it has been determined that the menus of the enterprises in Adana mainly include şırdan (abomasum), mumbar, kırkkat (rumen), tripe, khash, tongue, çürük and brain offal dishes. When we look at the data obtained as a result of the interviews, it is seen that offal dishes have an important place. The fact that both local people and guests from different provinces prefer offal in Adana reveals that offal is also important in the scope of gastronomic tourism in Adana region.
References
Alao, B. O., Falowo, A. B., Chulayo, A., & Muchenje, V. (2018). Consumers' Preference and Factors İnfluencing Offal Consumption İn Amathole District Eastern Cape, South Africa. Sustainability, 10(9), 3323.
Altunışık, R., Coşkun, R., Bayraktaroğlu, S., & Yıldırım, E. (2010). Sosyal Bilimlerde Araştırma Yöntemleri SPSS Uygulamalı (6. Baskı). Sakarya: Sakarya Yayıncılık.
Bourdain, R. (2012). Comfort Me With Offal: Ruth Bourdain's Guide to Gastronomy. France: Andrews McMeel Publishing.
Dalby, A. (2003). Tastes of Byzantium. New York: Prospect Books.
Dumanlı, P. (2013). Offal: As A Food Culture İn İstanbul Cuisine, Doctoral Dissertation, İstanbul Bilgi Üniversitesi.
Dumanlı, P. (2015). Sakatat: Ciğerden İşkembeye, Böbrekten Paçaya. İstanbul: Hayy Kitap.
Durlu Özkaya, F. ve Cömert, M. (2017). Türk Mutfağında Yolculuk. Ankara: Detay Yayıncılık.
Edwards, N. (2013). Offal: A Global History. London: Reaktion Books.
Ertaş, Y., ve Gezmen Karadağ, M. (2013). Sağlıklı beslenmede Türk mutfak kültürünün yeri. Gümüşhane Üniversitesi Sağlık Bilimleri Dergisi, 2(1), 117-136.
Kasar, H. (2021). Türk Mutfak Kültürü Evreleri ve Mutfak Sentezinin İncelenmesi. Journal of Humanities and Tourism Research, 11(2), 359-378.
Kızıldemir, Ö., Öztürk, E. ve Sarıışık, M. (2014). Türk Mutfak Kültürünün Tarihsel Gelişiminde Yaşanan Değişimler. Abant İzzet Baysal Üniversitesi Sosyal Bilimler Enstitüsü Dergisi. 14(3), 191-210.
Küçükkömürler, S., ve Koluman, A. (2021). Tüketicilerin Sakatat Tüketimi ve Tercihi. Journal of Recreation and Tourism Research, 8(1), 120-143.
MEGEP (2011). Yiyecek içecek hizmetleri: Türk Mutfağına Özgü Et ve Sakatat Yemekleri. https://docplayer.biz.tr/20707474-T-c-milli-egitim-bakanligi-yiyecek-icecek-hizmetleri-turk-mutfagina-ozgu-et-ve-sakatat-yemekleri-811ork057.html Erişim tarihi: 24 Haziran 2021.
Nişanyan, S. (2018). Nişanyan Sözlük: Çağdaş Türkçenin Etimolojisi. Liber.
Oral, M. Z. (2008). Selçuk Devri Yemekleri ve Ekmekleri., İstanbul, Kitabevi Yayınları, Cilt I, s.18-34.
Özdemir, S. S. (2020). Uygulamalı Türk Mutfağı. N. Şahin Perçin ve C. Uçuk (Ed.), Türk mutfağında yer alan sakatatlar, Ankara: Nobel Akademik Yayınevi, ss. 209-213.
Sürücüoğlu, S, M. & Özçelik, Ö, A. (2007, Eylül). Türk Mutfak ve Beslenme Kültürünün Tarihsel Gelişimi.
Uluslararası Asya ve Kuzey Afrika Çalışmaları Kongresi, Ankara (ss.1289-1310).
TDK (Türk Dil Kurumu) (2021). Güncel Türkçe Sözlük.
Tondervan, E. (2018). How did ancient humans preserve food? https://earthwormexpress.com/the-prehistory-of-food/in-prehistory-we-ate-fermented-foods/ Erişim tarihi: 30 Haziran 2021.
Yaşin, M. (2020). Sakatat: Mutfakların baştacı https://www.mehmetyasin.com.tr/sakatat-mutfaklarin-bas-taci/ Erişim tarihi: 30 Haziran 2021.
Yıldırım, A., & Şimşek, H. (2008). Sosyal Bilimlerde Nitel Araştırma Yöntemleri (6.Baskı). Ankara: Seçkin Yayıncılık.
Young, J. (2018). The offal truth. Gastronomica, 18(1), 76-82.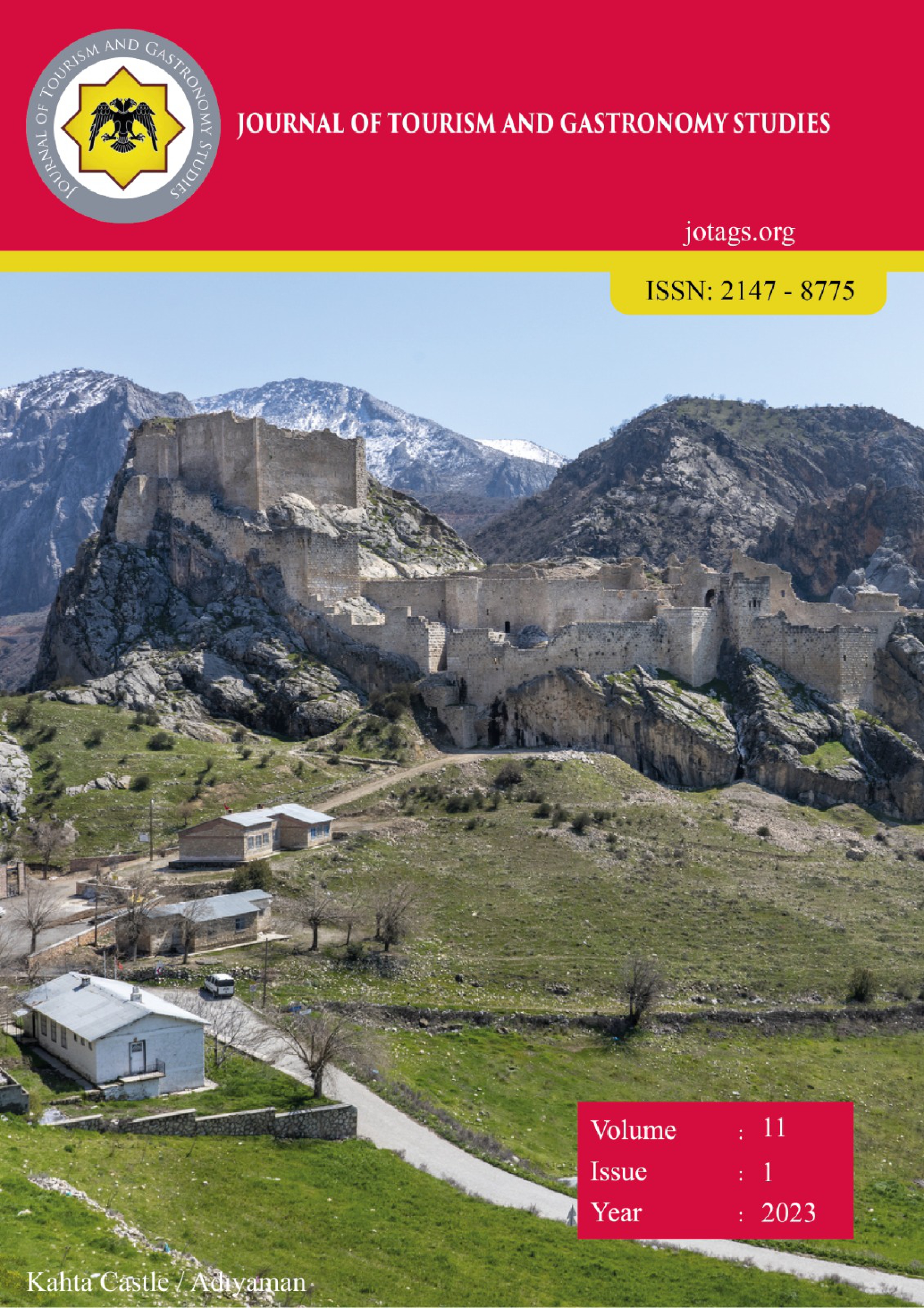 How to Cite
ÖZ, H., & SEÇİM , Y. . (2023). Offal in Turkısh Cuisine: Example of Adana Province. Journal of Tourism & Gastronomy Studies, 11(1), 317–327. https://doi.org/10.21325/jotags.2023.1194
Section
Research Articles
License
Copyright (c) 2023 Journal of Tourism & Gastronomy Studies
This work is licensed under a Creative Commons Attribution-NonCommercial 4.0 International License.