Çiriş Otunun Mutfak Kültüründeki Yeri: Bingöl İli Örneği (The Place of Çiriş Grass in Culinary Culture: The Case of Bingöl Province)
Keywords:
Asparagus, Bingol, Local dishes, Culinary culture
Abstract
Edible wild herbs are used in various local dishes in terms of both their taste and health benefits. Over time, the changes in people's eating habits and the developing trends towards consuming foods that are beneficial to health have also increased the demand for grass dishes. Çiriş herb, which is consumed in certain periods of the year in the Bingöl region, is considered important in terms of its health benefits and the flavor it adds to the dishes. In this direction, the aim of the study is to determine the place of asparagus in Bingöl culinary culture. Qualitative research method was used in the research. Interviews were conducted with 11 female participants living in Istanbul, whose family origin was Bingöl. The data obtained from the participants with a semi-structured interview form were analyzed by descriptive analysis method. As a result of the analysis, it was seen that the knowledge of the participants about the dishes made with asparagus was limited. In this context, it was determined that they knew that only four dishes were made with çiriş herb, namely rice, roasted meat, soup and börek. Although it has been stated in the literature that tea is made with asparagus, all of the participants stated that they do not make tea with asparagus. Another important result is that the participants learned about the dishes made with herbs from their families. This situation has enabled the continuation of the weed culture. However, it is thought that it will be more effective to include the culture in recipe books, to increase the promotion of the herb, to include it in the official websites of the state (Culture Portal, Bingöl Provincial Directorate of Culture and Tourism) and to include it in restaurant menus instead of transferring the culture orally.
References
Apuhan, A. K. & Beyazkaya, T. (2019). Bingöl'ün yenilebilir yabani bitkilerinin gastronomi turizmine etkisi üzerine bir araştırma. Tourism and Recreation, 1(1), 31-37.
Arslan, D., Aslan, E. & Bilmez Özçınar, A. (2020). Plant Specıes Known and Used as Asphodel in Turkey. G. Özyazıcı (Ed.), Research in Medicinal and Aromatıc Plants, içinde (pp. 291-312), Ankara: İksad Publishing House.
Aslantürk, Ö. S., & Çelik, T. A. (2013). Investigation of antioxidant, cytotoxic and apoptotic activities of the extracts from tubers of Asphodelus aestivus Brot. African Journal of Pharmacy and Pharmacology, 7(11), 610-621.
Aytaçlı, B. (2012). Durum çalışmasına ayrıntılı bir bakış. Adnan Menderes Üniversitesi Eğitim Fakültesi Eğitim Bilimleri Dergisi, 3(1), 1-9.
Badayman, M., Dinçel, E. & Alçay, A. Ü. (2018). Çiriş otu ve Türk mutfağında kullanımı. Aydın Gastronomy, 2(1), 51-55.
Bilgöl İl Kültür ve Turizm Bakanlığı (2023). https://bingol.ktb.gov.tr/TR-57172/turizm-aktiviteleri.html (Erişim: 17.06.2023).
Blanco-Salas, J., Gutierrez-Garcia, L., Labrador-Moreno, J., & Ruiz-Tellez, T. (2019). Wild plants potentially used in human food in the Protected Area" Sierra Grande de Hornachos" of Extremadura (Spain). Sustainability, 11(2), 456.
Bursal, E., Güzel, E. & Remzi, B. (2013). Çiriş otunun (asphodelus aestivus) antioksidan aktivitesinin belirlenmesi. Muş Alparslan Üniversitesi Fen Bilimleri Dergisi, 1(1), 17-25.
Ceylan, F. & Şahingöz, S. A. (2019). Yenilebilir otlar tüketim alışkanlığı: düziçi örneği (edible herbs habitual). Journal of Tourism and Gastronomy Studies, 2204, 2225.
Çetinkaya, N. & Yıldız, S. (2018). Erzurum'un yenilebilir otları ve yemeklerde kullanım şekillerine yönelik bir araştırma. Güncel Turizm Araştırmaları Dergisi, 2(1), 482-503.
Di Petrillo, A., González-Paramás, A. M., Era, B., Medda, R., Pintus, F., Santos-Buelga, C., & Fais, A. (2016). Tyrosinase inhibition and antioxidant properties of Asphodelus microcarpus extracts. BMC complementary and Alternative Medicine, 16(1), 1-9.
Güvenç, İ. & Kaya, Y. (1996). Erzurum'da sebze olarak değerlendirilen yöresel bazı bitkiler/local wıld plants used as vegetable ın Erzurum. Atatürk Üniversitesi Ziraat Fakültesi Dergisi, 27(3).
Ham, S. S., Oh, D. H., Hong, J. K. & Lee, J. H. (1997). Antimutagenic effects of juices from edible Korean wild herbs. Preventive Nutrition and Food Science, 2(2), 155-161.
Karaca, O. B., Yıldırım, O. & Çakıcı, C. (2015). gastronomi turizminde otlar, ot yemekleri ve sağlıkla ilişkisi üzerine bir değerlendirme. Journal of Tourism and Gastronomy Studies, 27, 42.
Karataş, F., Bektaş, İ., Birişik, A., Aydın, Z. & Kurtul, A. (2011). Çiriş otunda (asphodelus aestivus l.) suda çözünen bazı bileşiklerin araştırılması. Süleyman Demirel Üniversitesi Fen Edebiyat Fakültesi Fen Dergisi, 6(1), 35-39.
Karataş, Z. (2015). Sosyal bilimlerde nitel araştırma yöntemleri. Manevi Temelli Sosyal Hizmet Araştırmaları Dergisi, 1 (1), 62-80.
Kyriazopoulos, A. P., Fotiadis, G., Parissi, Z. M., & Abraham, E. M. (2011). Edible plant species in rangeland ecosystems of Crete, Greece. In Grassland farming and land management systems in mountainous regions. Proceedings of the 16th Symposium of the European Grassland Federation, Gumpenstein, Austria, 29th-31st August, 2011 (pp. 505-507). Agricultural Research and Education Center (AREC) Raumberg-Gumpenstein.
Malmir, M., Serrano, R., Caniça, M., Silva-Lima, B. & Silva, O. (2018). A comprehensive review on the medicinal plants from the genus Asphodelus. Plants, 7(1), 20.
Mil, B. & Denk, E. (2015). Erzurum Mutfağı Yöresel Ürünlerin Otel Restoran Menülerinde Kullanım Düzeyi: Palandöken Örneği. International Journal of Social and Economic Sciences, 5(2), 01-07.
Okcu, Z. & Kaplan, B. (2018). Doğu Anadolu bölgesinde gıda olarak kullanılan yabani bitkiler. Türk Tarım-Gıda Bilim ve Teknoloji Dergisi, 6(3), 260-265.
Rajasab, A. H. & Isaq, M. (2004). Documentation of folk knowledge on edible wild plants of North Karnataka. Indian Journal of Traditional Knowledge, 3(4), 419-429
Savo, V., Salomone, F., Bartoli, F., & Caneva, G. (2019). When the local cuisine still incorporates wild food plants: The unknown traditions of the Monti Picentini Regional Park (Southern Italy). Economic Botany, 73, 28-46.
Siriamornpun, S., Sriket, C. & Sriket, P. (2014). Phytochemicals of Thai local edible herbs. International Food Research Journal, 21(3), 1009- 1016.
Şimşek, A., Durmuş, E. N. İ. & Çakmak, S. D. (2020). Yenilebilir otlar ve yemeklerde kullanım şekilleri: kastamonu örneği. Tourism and Recreation, 2(1), 8-12.
Tabuti, J. R. S., Dhillion, S. S. & Lye, K. A. (2004). The status of wild food plants in Bulamogi County, Uganda. International Journal of Food Sciences and Nutrition, 55(6), 485-498.
Tugay, O., Bağcı, İ., Ulukuş, D., Özer, E. & Canbulat, M. A. (2012). Wild plants using as food of Kurucuova town (Beyşehir, Konya/Turkey). Biological Diversity and Conservation, 5(3), 140-145.
Türk Patent ve Marka Kurumu (2023) https://ci.turkpatent.gov.tr/cografi-isaretler/liste?il=12 (Erişim: 17.06.2023). Türkiye Kültür Portalı (2023). https://www.kulturportali.gov.tr/turkiye/bingol (Erişim: 17.06.2023).
Urhan, Y., Ege, M. A., Öztürk, B. & Elgin Cebe, G. (2016). Türkiye gıda bitkileri veritabanı. Ankara Üniversitesi Eczacılık Fakültesi Dergisi, 40(2), 43-57.
Vishwakarma, K. L. & Dubey, V. (2011). Nutrıtıonal Analysıs Of Indıgenous Wıld Edıble Herbs Used Ineastern Chhattısgarh, Indıa. Emirates Journal of Food and Agriculture, 554-560.
Yazmış, E. & Özpınar, A. (2019). Çiriş otu (Asphodelus aestivus Brot.) ile biyolojik mücadelede Capsodes infuscatus Brulle'un kullanım olanağının araştırılması. Türkiye Biyolojik Mücadele Dergisi, 10(2), 93-103.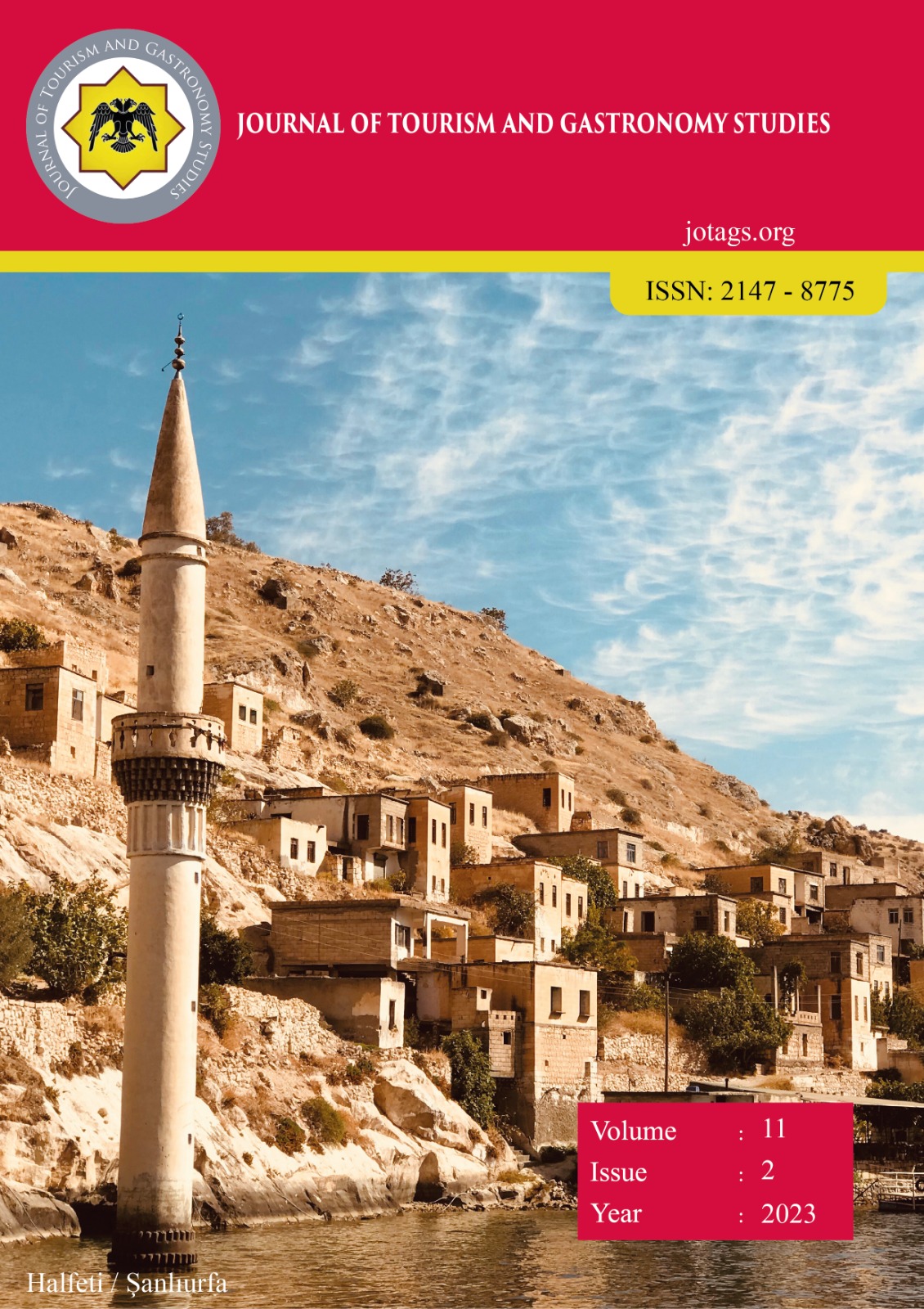 Downloads
How to Cite
KAYMAZ , E. ., & USTA , S. . (2023). Çiriş Otunun Mutfak Kültüründeki Yeri: Bingöl İli Örneği (The Place of Çiriş Grass in Culinary Culture: The Case of Bingöl Province). Journal of Tourism & Gastronomy Studies, 11(2), 1189–1205. https://doi.org/10.21325/jotags.2023.1239
Section
Research Articles
License
Copyright (c) 2023 Journal of Tourism & Gastronomy Studies
This work is licensed under a Creative Commons Attribution-NonCommercial 4.0 International License.