ChatGPT ile Sohbetler: Turizmde ChatGPT'nin Önemi (Chats with ChatGPT: Importance of ChatGPT in Tourism)
Keywords:
ChatGPT, GPT-4, Conversation Theory, Artificial intelligence in tourism, Operating sectors of the tourism industry
Abstract
After the industrial revolution, especially with technological advances, modern tourism has reached its current position. The main purpose of this study is to examine ChatGPT (language model program or artificial intelligence robot) in the field of tourism. While ChatGPT is discussed positively or negatively in many areas, studies related to ChatGPT in tourism are limited. It has been noticed that these limited studies carried out in tourism are related to the use of ChatGPT in tourism education. However, there has yet to be a study investigating how ChatGPT will contribute to the tourism operating sectors (e.g., accomodation, transportation, food services, tourism services etc.) and its importance in tourism. This study will contribute significantly to the literature as the first study uses the conversation theory to describe the significance of ChatGPT in tourism. According to the results, ChatGPT has the potential to make outstanding contributions to the operating sectors of tourism.
References
Ali, F., & OpenAI, Inc, C. (2023). Let the devil speak for itself: Should ChatGPT be allowed or banned in hospitality and tourism schools?. Journal of Global Hospitality and Tourism, 2(1), 1-6. https://www.doi.org/10.5038/2771-5957.2.1.1016
Aydın, Ö., & Karaarslan, E. (2023). Is ChatGPT Leading Generative AI? What is Beyond Expectations?. What is Beyond Expectations. Available at SSRN: https://ssrn.com/abstract=4341500
Balas, M., & Ing, E. B. (2023). Conversational AI Models for ophthalmic diagnosis: Comparison of ChatGPT and the Isabel Pro Differential Diagnosis Generator. JFO Open Ophthalmology, 100005.
Goeldner, C. R., & Ritchie, J. B. (2012). Tourism Principles, Practices, Philosophies. John Wiley & Sons.
Haleem, A., Javaid, M., & Singh, R. P. (2023). An Era of Chatgpt As a Significant Futuristic Support Tool: A Study On Features, Abilities, and Challenges. BenchCouncil Transactions on Benchmarks, Standards and Evaluations, 100089.
Hong, W. C. H. (2023). The impact of ChatGPT on foreign language teaching and learning: opportunities in education and research. Journal of Educational Technology and Innovation, 3(1).
Iskender, A. (2023). Holy or Unholy? Interview with Open AI's ChatGPT. European Journal of Tourism Research, 34, 3414-3414.
Pask, G. (1976). Conversation theory. Applications in Education and Epistemology. Elsevier.
Rospigliosi, P. A. (2023). Artificial intelligence in teaching and learning: what questions should we ask of ChatGPT?. Interactive Learning Environments, 31(1), 1-3.
Stokel-Walker, C., & Van Noorden, R. (2023). What ChatGPT and generative AI mean for science. Nature, 614(7947), 214-216.
Tong, Y., & Zhang, L. (2023). Discovering the next decade's synthetic biology research trends with ChatGPT. Synthetic and Systems Biotechnology, 8(2), 220.
Van Dis, E. A., Bollen, J., Zuidema, W., van Rooij, R., & Bockting, C. L. (2023). ChatGPT: five priorities for research. Nature, 614(7947), 224-226.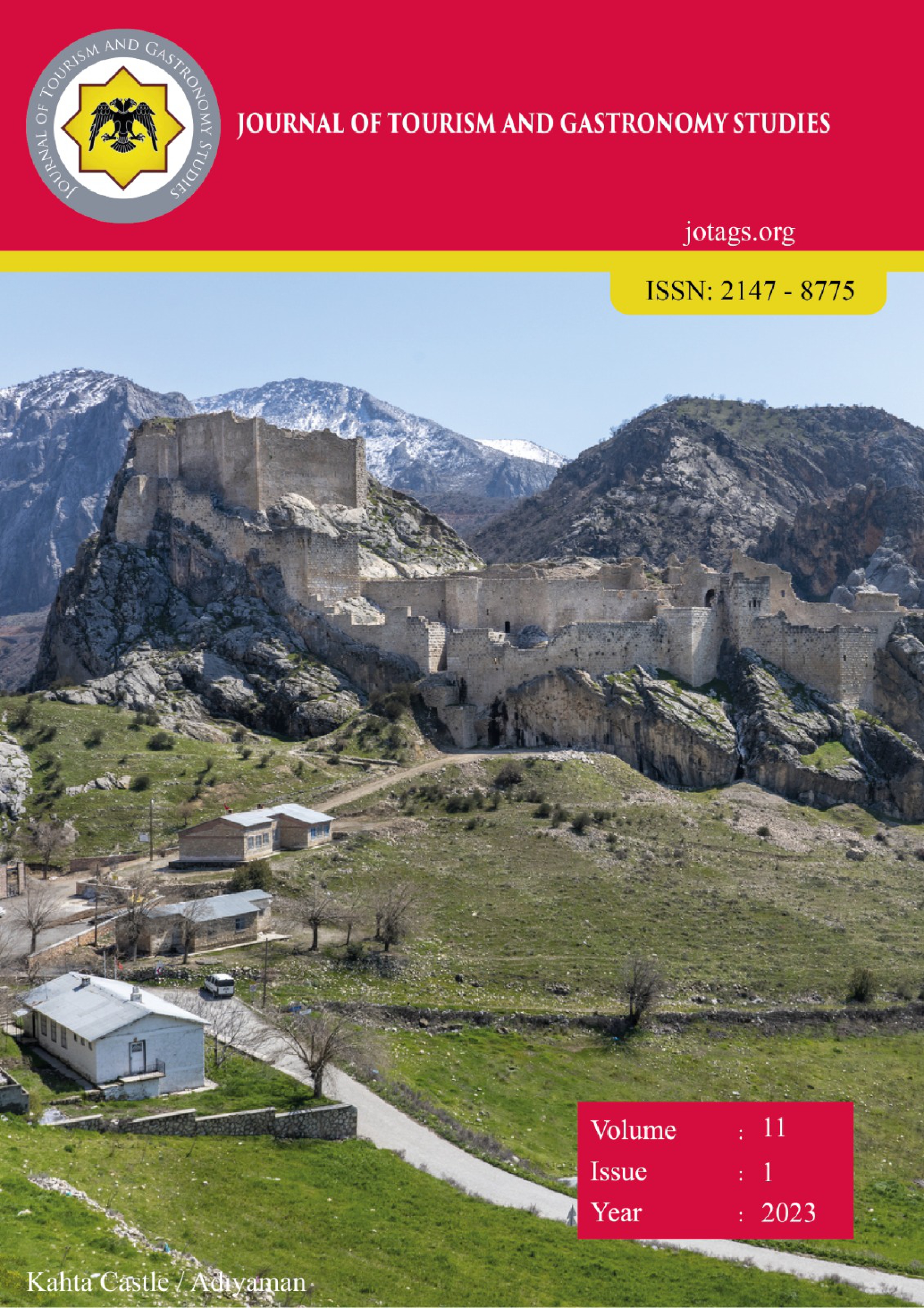 How to Cite
ERUL , E. ., & IŞIN , A. I. . (2023). ChatGPT ile Sohbetler: Turizmde ChatGPT'nin Önemi (Chats with ChatGPT: Importance of ChatGPT in Tourism). Journal of Tourism & Gastronomy Studies, 11(1), 780–793. https://doi.org/10.21325/jotags.2023.1217
Section
Research Articles
License
Copyright (c) 2023 Journal of Tourism & Gastronomy Studies
This work is licensed under a Creative Commons Attribution-NonCommercial 4.0 International License.