The Role of Parents on Intergenerational Transmission of Cuisine Culture in Türkiye
Keywords:
Children, Parents, Consumption habits, Cultural transmission, Turkish cuisine culture
Abstract
Food choices are determined by experience, structural and habitual factors. With regards to social learning, the family plays a crucial role to develop perception of nutrition. This study aims to investigate the role of parents in the formation of children's knowledge on Turkish cuisine culture. For this aim, a research model was created with an ethnographic design and an interpretative model. A semi-structured interview form was used to collect data from nine participants via face- to-face interviews. Parents who have children between the ages of 7-16 were interviewed. As a result of thematic analysis, four themes were determined: socio-cultural structure of the family, traditional consumption habits, learning by doing/experience and social norms. As a result, consumption habits that parents transmit to their children are affected by the transmission they have acquired at a young age, and female figures are dominant in this cultural transmission. This study reveals important findings for the transmission of Turkish cuisine culture to future generations and parents' role in this process.
References
Akarçay, E. (2016). Beslencenin sosyolojisi: Orta sınıf (lar) ın yeme içme ve eğlence örüntüleri. Ankara: Phoenix Yayınları.
Anving, T., & Sellerberg, A. M. (2010). Family meals and parents' challenges. Food, Culture & Society, 13(2), 201- 214.
Ateşoğlu, İ., & Türkkahraman, M. (2009). Çocuklarin Tüketici Olarak Sosyalleşmesi. Süleyman Demirel Üniversitesi İktisadi ve İdari Bilimler Fakültesi Dergisi, 14(3), 215-228.
Bilgiç, D. N. (2020). Yeni Bir Kırsal Kalkınma, Bilindik Bir Kırsal Annelik: Ticarileşen Yöresel Yemeklerin Toplumsal Cinsiyet Rollerine Etkisi. İstanbul University Journal of Sociology, 40(1), 79-108.
Bowen, R. L., & Devine, C. M. (2011). "Watching a person who knows how to cook, you'll learn a lot". Linked lives, cultural transmission, and the food choices of Puerto Rican girls. Appetite, 56(2), 290-298.
Boyland, E. J., & Halford, J. C. (2013). Television advertising and branding. Effects on eating behaviour and food preferences in children. Appetite, 62, 236-241.
Braun, V., & Clarke, V. (2006). Using thematic analysis in psychology. Qualitative research in psychology, 3(2), 77-101.
Caraher, M., Dixon, P., Lang, T., & Carr‐Hill, R. (1999). The state of cooking in England: the relationship of cooking skills to food choice. British Food Journal.
Carlson, L., Grossbart, S., & Walsh, A. (1990). Mothers' communication orientation and consumer-socialization tendencies. Journal of Advertising, 19(3), 27-38.
Contento, I. R. (2007). Nutrition education: linking research, theory, and practice.
Cömert, M., & Özkaya, F. D. (2014). Gastronomi turizminde Türk mutfağının önemi. Journal of Tourism and Gastronomy Studies, 2(2), 62-66.
Creswell, J., & Creswell, J. D. (2021). Araştırma Tasarımı. Nobel Yayıncılık
Creswell, J. W. (2013). Nitel araştırma yöntemleri. M. Bütün and SB Demir, Çev.(Eds.). İstanbul: Siyasal Kitapevi.
Delaney, M., & McCarthy, M. B. (2014). Saints, sinners and non-believers: the moral space of food. A qualitative exploration of beliefs and perspectives on healthy eating of Irish adults aged 50–70. Appetite, 73, 105-113.
Durukan, A., & Türker, B. (2021). Gıda Hafızasınin Farklı Yaş Gruplarında İncelenmesi. Al Farabi Uluslararası Sosyal Bilimler Dergisi, 6(1), 1-9.
Elamin, A., Garemo, M., & Gardner, A. (2018). Dental caries and their association with socioeconomic characteristics, oral hygiene practices and eating habits among preschool children in Abu Dhabi, United Arab Emirates—the NOPLAS project. BMC Oral Health, 18(1), 1-9.
Gram, M., & Grønhøj, A. (2015). "There is Usually Just One Friday a Week" Parents' and Children's Categorizations of "Unhealthy" Food. Food, Culture & Society, 18(4), 547-567.
Grønhøj, A., & Gram, M. (2020). Balancing health, harmony and hegemony: Parents' goals and strategies in children's food related consumer socialization. International Journal of Consumer Studies, 44(1), 77-88.
Halıcı, N. (1997). Karadeniz Bölgesi Yemekleri Üzerine Bir Araştırma. Doktora Tezi, Gazi Ün., Sosyal Bilimler Ens., Ankara.
Iradukunda, F. (2020). Food taboos during pregnancy. Health Care For Women International, 41(2), 159-168.
İlban, M. O., & Savgın, C. U. (2020). Nerede O Eski Mutfaklar. Seyahat ve Otel İşletmeciliği Dergisi, 17(3), 509- 523.
John, D. R. (1999). Consumer socialization of children: A retrospective look at twenty-five years of research. Journal of Consumer Research, 26(3), 183-213.
Jordana, J. (2000). Traditional foods: challenges facing the European food industry. Food Research International, 33(3-4), 147-152.
Karaca, E., & Altun, İ. (2017). Toplumsal Cinsiyetin Geleneksel Türk Mutfağina Yansıması. Motif Akademi Halkbilimi Dergisi, 10(20), 335-342.
Kim, C., Yang, Z., & Lee, H. (2015). Parental style, parental practices, and socialization outcomes: An investigation of their linkages in the consumer socialization context. Journal of Economic Psychology, 49, 15-33.
Közleme, O. (2012). Türk mutfak kültürü ve din. Marmara Universitesi.
Lang, T., & Caraher, M. (2001). Is there a culinary skills transition? Data and debate from the UK about changes in cooking culture. Journal of the HEIA, 8(2), 2-14.
Magsadia, A., & Vargas, D. (2021). Influence of cultural transmission through television on childrens behavior.
Available at SSRN 3791123.
Mahmood, L., Flores-Barrantes, P., Moreno, L. A., Manios, Y., & Gonzalez-Gil, E. M. (2021). The influence of parental dietary behaviors and practices on children's eating habits. Nutrients, 13(4), 1138.
McCauley, B., Nguyen, T. H. T., McDonald, M., & Wearing, S. (2020). Digital gaming culture in Vietnam: an exploratory study. Leisure Studies, 39(3), 372-386.
McNeal, J. U., & McNeal, J. U. (1999). The kids market: Myths and realities. Paramount Market Publishing.
McNeal, J. U., & Yeh, C.-H. (1990). Taiwanese children as consumers. European Journal of Marketing, 24(10), 32- 43.
Mura Paroche, M., Caton, S. J., Vereijken, C. M., Weenen, H., & Houston-Price, C. (2017). How infants and young children learn about food: A systematic review. Frontiers in Psychology, 8, 1046.
Neuman, W. L. (2009). Toplumsal araştırma yöntemleri: nitel ve nicel yaklaşımlar: 2. cilt. Yayınodası.
Nor, N. M., Sharif, M. S. M., Zahari, M. S. M., Salleh, H. M., Isha, N., & Muhammad, R. (2012). The transmission modes of Malay traditional food knowledge within generations. Procedia-Social and Behavioral Sciences, 50, 79-88.
Pieniak, Z., Verbeke, W., Vanhonacker, F., Guerrero, L., & Hersleth, M. (2009). Association between traditional food consumption and motives for food choice in six European countries. Appetite, 53(1), 101-108.
Quintero-Angel, M., Mendoza, D. M., & Quintero-Angel, D. (2019). The cultural transmission of food habits, identity, and social cohesion: A case study in the rural zone of Cali-Colombia. Appetite, 139, 75-83.
Saygın, C. U., & İlban, M. O. (2019). Kırsal Alanlarda Kadınların Uyguladıkları Geleneksel Gıda Muhafaza Yöntemleri. Journal of Tourism and Gastronomy Studies, 2942, 2961.
Scaglioni, S., De Cosmi, V., Ciappolino, V., Parazzini, F., Brambilla, P., & Agostoni, C. (2018). Factors influencing children's eating behaviours. Nutrients, 10(6), 706.
Scott, M. L., & Vallen, B. (2019). Expanding the lens of food well-being: An examination of contemporary marketing, policy, and practice with an eye on the future. Journal of Public Policy & Marketing, 38(2), 127-135.
Solmaz, Y., & Altıner, D. D. (2018). Türk mutfak kültürü ve beslenme alışkanlıkları üzerine bir değerlendirme.
Safran Kültür ve Turizm Araştırmaları Dergisi, 1(3), 108-124.
Süren, T., & Kızıleli, M. (2021). Geleneksel Türk İçecekleri. Ankara Hacı Bayram Veli Üniversitesi Turizm Fakültesi Dergisi, 24(1), 46-71.
Swinbank, V. A. (2021). Women's Food Matters: Stirring the Pot. Springer Nature.
Takaki, K., Granovetter, M., Cook, K., & McFarland, D. (2018). A Dissertation Submitted To The Department of Sociology and The Committee On Graduate Studies of Stanford University.
TÜİK. (2021). İstatistiklerle çocuk, 2020. Retrieved 24 from https://data.tuik.gov.tr/Bulten/Index?p=Istatistiklerle- Cocuk-2020-37228
Utter, J., Denny, S., Lucassen, M., & Dyson, B. (2018). Who is teaching the kids to cook? Results from a nationally representative survey of secondary school students in New Zealand. International Journal of Adolescent Medicine And Health, 30(3).
Valkenburg, P. M., & Cantor, J. (2001). The development of a child into a consumer. Journal of Applied Developmental Psychology, 22(1), 61-72.
Vereecken, C. A., Keukelier, E., & Maes, L. (2004). Influence of mother's educational level on food parenting practices and food habits of young children. Appetite, 43(1), 93-103.
Ward, S. (1974). Consumer socialization. Journal of Consumer Research, 1(2), 1-14.
Yoldaş, Ö. (2019). Geleneksel Mudurnu mutfağının toplumsal cinsiyet ve sürdürülebilir gastronomi bağlamında analizi Sosyal Bilimler Enstitüsü].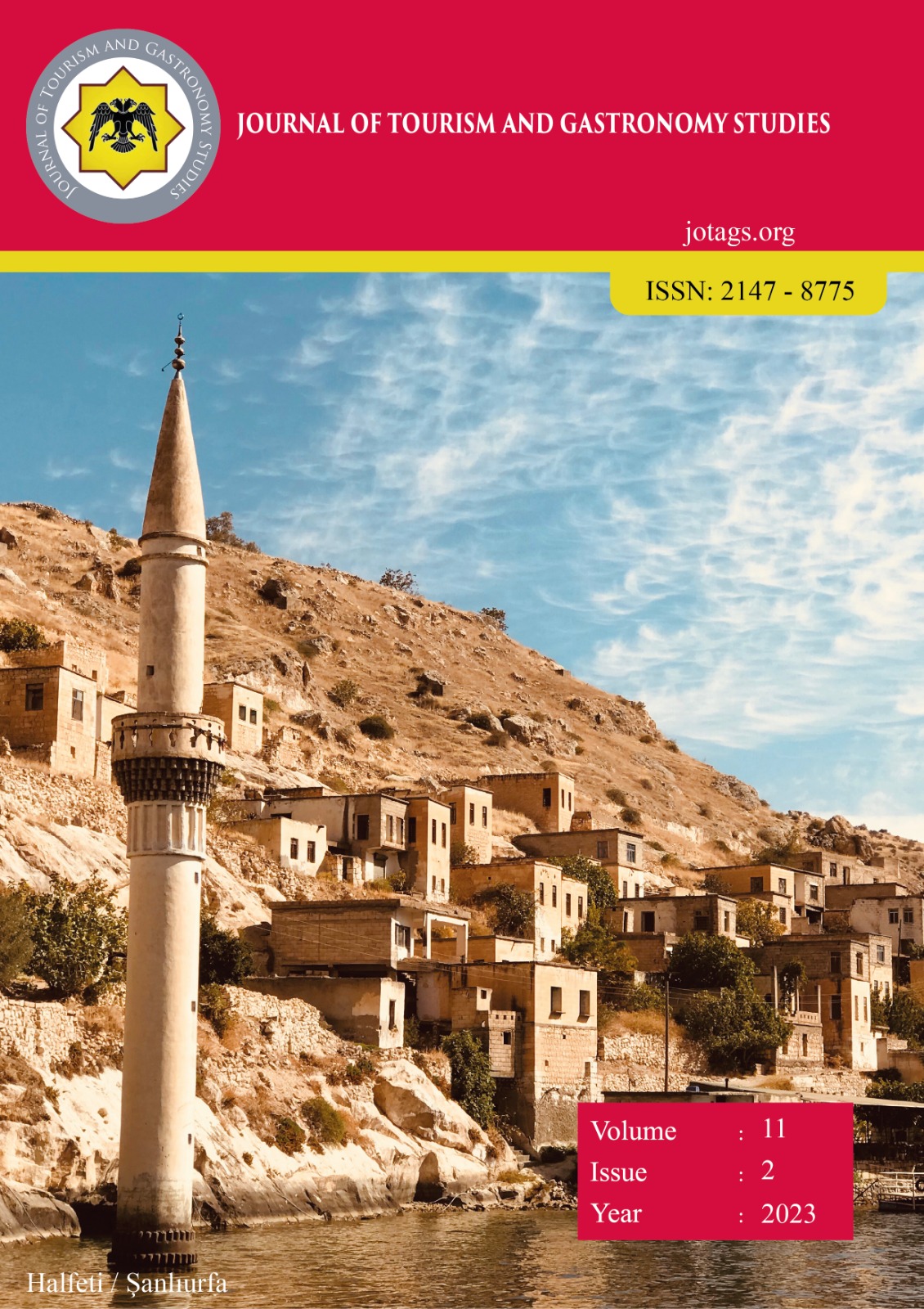 How to Cite
UYANIK, B., & ÖZER, Çağıl H. (2023). The Role of Parents on Intergenerational Transmission of Cuisine Culture in Türkiye. Journal of Tourism & Gastronomy Studies, 11(2), 832–846. https://doi.org/10.21325/jotags.2023.1220
Section
Research Articles
License
Copyright (c) 2023 Journal of Tourism & Gastronomy Studies
This work is licensed under a Creative Commons Attribution-NonCommercial 4.0 International License.